In Sparkes Builders, we care about the quality of everything we built. Here are just the few examples what we do differently than traditional builders!
We use ICF foundation walls for all of the house we are building in Fort McMurray. ICF foundation have several benefits over the traditional concrete foundation walls. ICF walls have built-in insulation that meet new Alberta Energy code, nicer outside and inside finish and leave more space for the inside of house. We are one of the qualified builders for ICF foundations.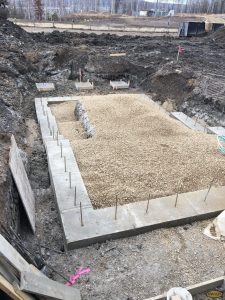 We use step footing to ensure minimum of 6' 8" footing below grade. 
We design. We build. We offer in-house design service for all your needs. This allow us to have a quality design at a timely manner.  We use 3D software for easy illustration, so you can come here to design with us!
We use engineered floor trusses that trusses are "open," allowing wiring, plumbing pipes, and HVAC ducts to be run through the trusses. With solid joists, holes must be drilled in the joists for wiring and pipes, and HVAC ducts have to be boxed in under the joists - intruding into your "living" space.